President: Roger Ellison
Roger has been on the island for 23 years, building a house and developing a food forest. He sells fruit trees, strawberry plants and biochar at the Grange Booth at the farmers market and from his nursery at Thornbush Farm. His current obsession is expanding his little railroad to better serve his sawmill and biochar operations.
Vice-President: Jessa Madosky
Programs / Lecturer: Marc Santos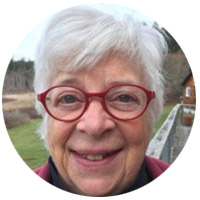 Steward: Alice Deane
Born and raised in Southern California, went to college in the Bay Area, then after 10 years moved to Portland, and moved to San Juan Island in 2001. Both my parents were actors, so I've spent a lot of my life working in the theater from which I am now retired. I started gardening in the 1970s and became a master gardener here in 2005. I'm an active gardener and enjoy playing music and contra dancing. My official role with the Grange is Steward, which means I set up the room for meetings, making sure everything is arranged properly. I chair the music and dance committee in partnership with Mike Cohen, our musician. We hold regular contra dances at the hall and arrange for other musical presentations. The Grange is a perfect partnership with the Master Gardeners, and we share many events together, such as workshops and classes.
Assistant Steward: Bill Severson
I am a long-time visitor and resident of San Juan Island dating back to a 1965 visit with the family. After graduating from the University of Washington I traveled extensively, however I never found such a magical place like the San Juan Islands. I returned with my wife Laura Jo to settle down here, sail the boat and raise a garden.
Recently retired as an Electrical Engineer and Manager with the General Electric Company. I spent my 47-year career working in the field with Industrial and Utility customers. I finished my career as a Commercial Manager for the Distributed Power, Hydro, Wind and finally Solar businesses.
We are in the midst of creating the worst human-caused environmental crisis ever, yet we live— more than seven billion of us—using ever more resources and with a rising average standard of living. As we degrade the planet and alter the climate, as human population continues to climb, we consume more, pollute more, and waste more—and nothing seems to be stopping us. I believe:
The Grange is the best chance for a grass-roots movement on climate change.
We must start now - we only have 7 years to begin to decarbonize the climate.
The Grange can take advantage of my unique experience and skills.
Let's work together to secure your future, create good farm related jobs in a clean sustainable fashion.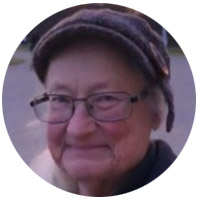 Lady Assistant Steward: Alison Longley
I am a biologist by training and an optimist by inclination. The Grange was founded on the national and local levels to encourage education, unity, and cooperation- qualities very much needed in our present moment. Our local programs, e.g. seed sharing and exchange, pollinator protection, food preservation, and the "greening" of our Grange hall are the kinds of actions we can take together to help deal with the emergencies- climate change, species loss among them - that we face today. Being part of our Grange gives me reason for optimism.
Treasurer: Boyd Pratt
Boyd C. Pratt was born in the (then) Territory of Hawaii at Kapiolani Hospital—the birthplace of President Obama! He went to St. John's College in Santa Fe and graduate school at UNM in Albuquerque, NM. After moving to San Juan Island in 1991, in addition to farming (he and his wife Lovel established the first CSA in the islands) he has done historic preservation consulting work on as many as he can of the 172 islands (at high tide) of the San Juan Archipelago. He has published three books about the history of the San Juans—Lime; Island Farming; and Island Fishing—and is working on a fourth, The Disputed Islands: Ordinary Life in Extraordinary Times, The San Juan Archipelago, 1850-1872. Go ahead, ask him about the historic barns or why lomi lomi salmon is part of a traditional Hawaiian luau…
Secretary: Lovel Pratt
Lovel loves living with Boyd on San Juan Island and enjoys all the fun community events that take place at the SJI Grange!
Gatekeeper: John Latimer
John is co-owner of Seagate Farm here on the island since 2020. He grew up in Ohio and went to college in California. After serving in the U.S. Navy and teaching high school social studies, John now spends his time on the farm, serving on several non-profit boards, and San Juan Island Grange subcommittees.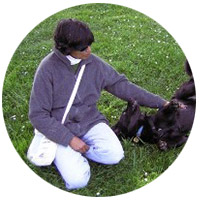 Flora: Nirmela Arsem
I was born and spent my early years in a tropical, rural setting. Vegetable garden, fruit trees, chicken and goats were part of my life. Through several moves to different countries, I managed an education and a career in the environmental field. But the longing for country living never left me. Even while living in a studio apartment in downtown San Francisco, I was processing raw fleece (washing, combing, spinning, and knitting). When I moved to a place with a small backyard, I took advantage of the year-round growing season and there was always something to harvest and share with neighbors. When everyone around me was seriously reading Wall Street Journal, I was reading Small Farmers Journal with a dreamy smile – the dream was about living close to the land again. I was fortunate to find San Juan Island, and now I am trying to find my way around being a subsistence farmer. The San Juan Grange was the place where I connected with like-minded people who value self-sufficiency and a simple way of living aligned with nature. This is where I meet generous people who share their knowledge and resources. The Grange has an impressive mission and I am grateful to be part of it. Anything I do as a Grange member, is service rendered in gratitude for so much I have received first.
Ceres: Lois Moore
Pomona: Laura Jo Severson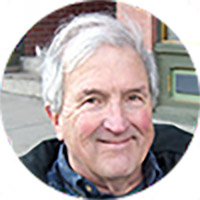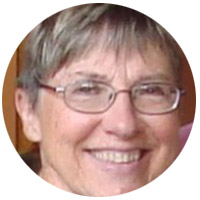 Executive Committee:
Doug Roawn
Bill Severson
Patty Garcia
I first experienced these islands when I was 6 years old, in 1952. My dad had been stationed in Hawaii during the war, and felt drawn to islands after that. We had a small cabin cruiser also, and we spent a lot of summertime cruising in the San Juans. I have so many memories of our summers here. I inherited 4-1/2 acres of the property dad had, and my husband and I continued to spend week-ends and a week or two in the summer on the land. We built a little cabin, starting with logs rescued from the sea, and finished it with some cheap 3-sided 2 by 4s in 1981. It was finally sided permanently in 2008, after we finished and moved into the house I live in now. I retired after working 44 years at the University of Washington, the last 20 or so spent managing the research program of the Chair of the Department of Medicine. I joined the Grange in 2016. My favorite activity is hanging out at the Farmers' Market. I have fun riding my electric trike around town. And my favorite pastime is spending time with people.
Family Living Chair: Allyson Rugge
Musician: Mike Cohen